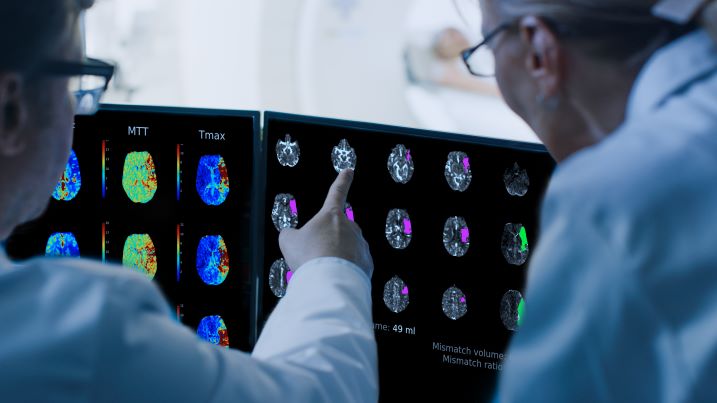 Tuesday, June 22, 2021
Allegheny Health Network Specialists Explore Use of Artificial Intelligence to Improve Stroke Diagnosis
PITTSBURGH - Doctors at Allegheny Health Network (AHN) are studying the effectiveness of an innovative artificial intelligence (AI) capability called Rapid CTA to more accurately and quickly diagnose stroke. The AHN team, led by neuroradiologist Warren Chang, MD and radiology resident Julie Adhya, MD, has published its initial experience with the technology in The Neuroradiology Journal ("Positive predictive value and stroke workflow outcomes using automated vessel density (Rapid-CTA) in stroke patients: One year experience"). Other co-authors of the study included AHN neuroradiologists Charles Li, MD and Michael Goldberg, MD, AHN neurologist Russell Cerejo, MD and neuroradiologist Laura Eisenmenger, MD.
Through an industry partnership with RapidAI, stroke specialists at AHN have access to real-time stroke imaging analyses to help them determine the most appropriate course of treatment for a patient experiencing stroke symptoms. Specifically, Rapid CTA compares a patient's blood vessels against each other, then highlights brain regions with reduced blood vessel density, helping clinicians to quickly identify suspected large vessel occlusions. The most common type of stroke is an ischemic stroke, which occurs when there is a blockage in a vessel supplying blood to the brain. When one of the major arteries of the brain is blocked, it is considered a large vessel occlusion (LVO) stroke.
As a person is having a stroke, the clock is ticking, explained Dr. Chang. "There is a finite window of opportunity for treatment to begin, while the brain is suffering irreparable damage," he said. The standard treatment for LVO stroke is a minimally invasive procedure called mechanical thrombectomy performed by an interventional radiologist using specialized equipment threaded into the patient's arteries to remove the clot. Rapid CTA can rapidly notify radiologists, neurologists and endovascular therapists of suspected LVOs amenable to mechanical thrombectomy, minimizing stroke-related permanent disabilities for the patient in the long run.
 The journal article documents the group's findings obtained through a one-year study of 310 patients who arrived at an AHN emergency department with stroke symptoms or neurologic deficits. The analysis compared two cohorts of patients with similar vessel blockages; physicians evaluating the patients in one cohort had access to Rapid CTA imaging, while those evaluating the other group did not. Ultimately, patients who had Rapid CTA received more timely treatment and suffered less permanent disability than their counterparts who did not have Rapid CTA.
"This research is a great example of the innovative work we are doing in the Neuroradiology program at AHN to stay on the cutting-edge of neuroimaging, especially in the area of stroke care," said Michael Goldberg, MD, MPH, Director, Division of Neuroradiology. "Ultimately, we think these initiatives will improve patient care and mitigate the devastating effects of this disease which impact so many people and families in our country every day."  
According to the American Stroke Association, someone in the United States has a stroke every 40 seconds. Stroke is fatal in about 10 to 20 percent of cases, and among survivors, it can cause a host of disabilities, including loss of mobility, impaired speech and cognitive problems.  

"AHN's relationship with Rapid AI, in the hands of our expert subspecialized neuroradiologists, promises to improve the quality of acute stroke care at our comprehensive and primary stroke centers, and further strengthens the quality of the care extended to our community hospitals," said Bethany Casagranda, DO, Chair of the Imaging Institute.