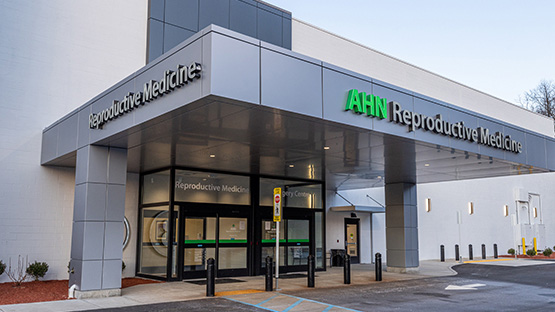 AHN Center for Reproductive Medicine
Choosing to start or grow your family is a big decision. Our caring and experienced reproductive health specialists understand that everyone's journey to parenthood is different. We'll work with you to customize a treatment plan that helps you have the family you want.
AHN Center for Reproductive Medicine
North Fayette Health + Wellness Pavilion
200 Quinn Drive
Pittsburgh, PA 15275
GET DIRECTIONS
Everything you need in the same place
The AHN Center for Reproductive Medicine is located at the North Fayette Health + Wellness Pavilion. Our clinical offices and surgery facility are under one roof with a dedicated entrance for fertility patients, making it easier than ever to get the care you need.
Why choose the AHN Center for Reproductive Medicine?
The AHN Center for Reproductive Medicine provides fertility testing and treatment plans, as well as fertility preservation services, to heterosexual couples, same-sex couples, and single-intending parents. We are here to help you achieve your family building goals.
No matter your reason for seeking fertility services, we help you understand your options and offer a wide range of fertility treatments, including:
Freezing of eggs, sperm, and embryos (cryopreservation).
Use of embryo and sperm donations from donation agencies.
Ovulation-stimulating medications.
Hormone treatment.
Assisted reproductive technology (ART), which includes procedures like intrauterine insemination (IUI), intracytoplasmic sperm injection (ICSI), and in vitro fertilization (IVF).
Semen analysis.
Minimally invasive surgical treatment for various reproductive problems.
There are some health conditions that can impact a person's ability to get or stay pregnant. We can evaluate you for conditions that impact reproductive health, including:
Endometriosis.
Polycystic ovary syndrome (PCOS).
Pituitary disorders.
Congenital (present from birth) anomalies of the reproductive tract.
Uterine abnormalities like polyps or fibroids.
Disorders of sexual development.

Meet our team
Our team of experienced fertility specialists completes two to three years of specialized training in a fertility-focused fellowship, in addition to standard OB-GYN training. We bring this expertise to a dedicated team of reproductive surgeons, urologists, OB-GYNs, family physicians, and other referring physicians that helps you build your family faster.
How to make an appointment
In most cases, you need to make an appointment with your primary care physician or OB-GYN to discuss your health concerns and their impact on your fertility. They will help you determine if and when to seek fertility treatment at the AHN Center for