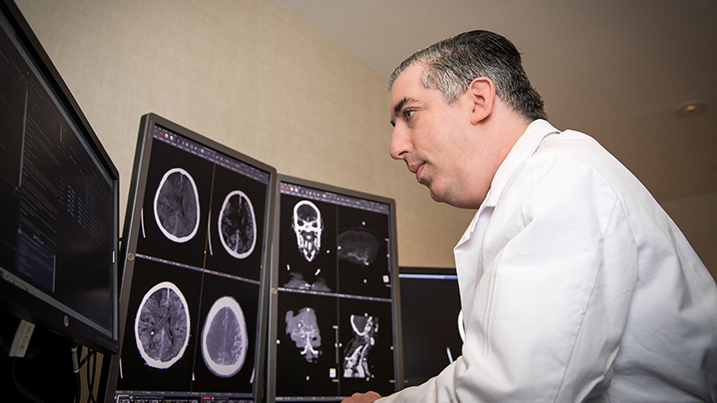 Thursday, September 09, 2021
Allegheny Health Network Stroke Specialists Use MRI To Guide Treatment of Patients Who Suffer Strokes While Asleep
Doctors at Allegheny Health Network (AHN) who specialize in the care of stroke patients are now using advanced magnetic resonance imaging (MRI) scanning to ascertain a critical piece of information about patients who wake up with stroke symptoms: the age of the stroke. Approximately 14–27 percent of all acute ischemic strokes (AIS) occur while an individual is asleep, making it difficult if not impossible for doctors to determine when the stroke began.
Acute ischemic strokes occur when blood flow in an artery to the brain is blocked by narrowing of the vessel, or when a blood clot forms in the artery and blocks the supply of blood to a part of the brain. Stroke is a leading cause of serious long-term disability and reduces mobility in more than half of survivors age 65 and over.
In order for stroke patients to safely receive the most effective clot dissolving medicine, tissue Plasminogen Activator (tPA), it must be administered within 4.5 hours of their first symptoms. Until recently, doctors had no means of establishing when a wake-up stroke began, so many patients were ineligible for tPA.  
"We believe that a significant percentage of wake-up strokes probably occur just before waking," said Michael Goldberg, MD, MPH, Director, Division of Neuroradiology. "Until recently, there has been little to offer these patients due to the limitations of tPA without knowing when a stroke began.  MRI is proving to be a game changer in that respect."
A groundbreaking study published in 2018 in the published in the New England Journal of Medicine (WAKE-UP Trial) gave rise to a paradigm shift in the way doctors manage these wake up stroke patients. The European study explored the use of MRI, rather than CT scanning to identify and analyze changes in the brain associated with stroke, which led the trial's investigators to identify  a technique for interpreting the imaging characteristics to determine the age of the stroke. "It's similar to reading the rings on a tree trunk to learn how old it is," said Dr. Goldberg.
The findings reported from the WAKE-UP Trial were swiftly adopted by the American Heart Association and the American Stroke Association as updates to their national guidelines for the management of acute ischemic stroke in patients of unknown time of symptom onset using emergent MRI.
At Allegheny General Hospital's Comprehensive Stroke Center, more than a thousand patients are treated for stroke each year, many of them wake-up strokes. Establishing 24/7 access to MRI scanning for these patients at the hospital required even further enhanced collaboration across the teams of specialists providing stroke care. "We developed new communication and staffing strategies among the stroke neurologists, emergency physicians, emergency radiologists, and neuroradiologists to make this work," said Dr. Goldberg.
According to Bethany Casagranda, DO, Chair of AHN's Imaging Institute,  AGH is one of the only stroke centers in the region with the advanced, 24/7 resources and capabilities to be able to treat patients who wake up with stroke symptoms with the MRI diagnostic protocol..
"The implementation of emergent MRI for wake-up stroke patients is a remarkable example of our expert subspecialized neuroradiologists working collaboratively with their colleagues in stroke neurology and emergency medicine at our comprehensive stroke center to improve the care required for this unique group of stroke patients," Dr. Casagranda said.
To date, more than 21 wake up stroke patients have been able to receive potentially life-saving tPA treatment thanks to AHN's new MRI protocol.