When you turn to Allegheny Health Network for cancer treatment, you have access to innovative, personalized care, without having to travel far. Our 2 regional academic centers, 7 comprehensive cancer centers, and 14 community-based clinics offer exceptional, expert care close to home. These local treatment centers help patients avoid the stress of commuting long distances to city hospitals. And through a $200 million investment by Highmark Health, we are building even more clinics in western Pennsylvania to increase your care options. At our regional academic centers at Allegheny General and West Penn Hospitals, eligible patients can receive the latest evidence-based treatments for all types of cancers. And at our seven Comprehensive Care Centers, you can get the full spectrum of cancer services, from diagnosis through recovery.
2 Regional Academic Centers
7 Comprehensive Centers
14 Community-based Clinics
AHN Cancer Institute has developed a unique approach to cancer care rooted in discovery, innovation, and collaboration. So we are investing $80 million to build a new academic cancer center at Allegheny General Hospital to keep bringing cancer care advancements to our patients well into the future. It will feature clinical trials — some in conjunction with Johns Hopkins Medicine — pioneering research and emerging treatments and technologies for patients throughout western Pennsylvania.
At AHN Cancer Institute you can expect:
"It wasn't until I met with Dr. Duggal that I understood it was treatable, not fatal. She was more than a doctor. She became like family to me."
- Shanthi Drescher, Patient
The AHN Cancer Institute has developed a leading-edge care model that sets us apart from other cancer institutes. We have reinvented how cancer care is delivered. The typical approach to cancer care can leave patients exhausted and sometimes bankrupt by the time they are cured. Our method focuses on reducing stress for patients, lowering costs, and improving outcomes. It also involves building on our elite-level relationships and investing in new treatment centers as we continue to offer services closer to home.
Recognized expertise
Having access to top-rated cancer care improves the likelihood of the best possible outcome for you. AHN Cancer Institute doctors pioneer groundbreaking advances in cancer prevention, screening, diagnosis, and treatments for all kinds of cancers. These experts are respected leaders of national organizations with connections to world-class researchers.
For example, AHN Cancer Institute experts work closely with researchers at the renowned Johns Hopkins Kimmel Cancer Center. This collaboration gives patients with rare and complex cancers more options for treatment, including second opinions, and streamlined and guided access to clinical trials. Through a meeting of the brightest minds in cancer, doctors from the AHN Cancer Institute and the Johns Hopkins Kimmel Cancer Center work together to determine a care plan that's right for you.

Supportive, compassionate care for the whole person
We also understand that healing goes beyond your physical health – it's about emotional wellness, too. With AHN, you get access to our support services plus the peace of mind you're getting state-of-the art care that's convenient and affordable. We integrate the latest treatments, technologies, and clinical trials into community care close to home. You don't have to go far for top-notch care at one of our regional academic centers, 7 comprehensive cancer centers, and 14 community-based clinics. To help control costs, we've joined with the Highmark Cancer Collaborative to improve our administrative processes as well. We reward doctors based on the quality of care they provide instead of the quantity. And, our coordinated, multispecialty care model reduces wait time and duplication of tests. For you, this means more convenient, affordable care, and better outcomes.
You are not alone: a team to help guide you through cancer treatment
We focus on your comfort throughout treatment. Our Navigation Team works one-on-one with you and your family to explain treatments, answer questions, and provide guidance. Oncology social workers help you navigate the emotional challenges related to cancer treatment. And if you need treatment after your doctor's office is closed, you can visit our After Hours Oncology Clinic. By visiting the clinic instead of an emergency room or hospital, you can get the specialized care you need and avoid exposure to infections. At the AHN Cancer Institute, innovation meets compassion.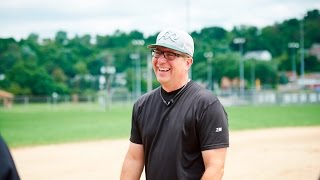 Ringing The Bell Celebrates The Last Day of Cancer Care
When Nancy was able to ring the bell at Forbes Hospital after almost two years of radiation, chemo and surgical treatments, everyone cheered her on. An approach that puts patients first is living proof that compassion is essential to recovery.
New Cancer Treatment Gets a Traveler Back on the Road
Naomi and her husband, John, had a goal of visiting all 50 states. When she was diagnosed with late-stage cancer, she thought her traveling days, and perhaps her life itself, were over. After several Pittsburgh doctors couldn't treat her, she began to lose hope.
For Breast Cancer Screenings, Get the Total Picture
AHN offers 3D digital tomosynthesis mammography so women like Monica can find out that breast cancer is not in their immediate future. This advanced screening technology helps radiologists detect breast cancer at its earliest, most curable stages.
Health for Emily
Stage 3 breast cancer. It dealt Josie's mom, Emily, some bad hands, but as long as she could hold her daughter's, it meant good things. Health for Emily meant a double mastectomy and reconstruction from a gifted surgical team. It meant two rounds of chemo with the latest drugs and a nurse navigator to keep her on track and one understanding princess to keep her positive. And most importantly, it's meant many more tomorrows for Emily. For an appointment with the Allegheny Health Network, call 412.DOCTORS (412.362.8677)
Meet Mary
Stage 3 lung cancer. It brought Ed's sweetheart, Mary, some bad days, but she and her husband fought through them for better ones. Health for Mary meant the Allegheny Health Network screening that found the tumor before any signs or symptoms.
Meet Walter
Prostate cancer. It was a rough road for Killian's best friend, Walter, but he and his dog never lost sight of their destination. Health for Walter meant an innovative minimally invasive robotic surgery that removed his cancer. It meant no radiation. No chemo. And most importantly, it's meant many more tomorrows and adventures for Walter and Killian. For an appointment, call 412.DOCTORS (412.362.8677). Or to learn more, visit the AHN Cancer Institute.
Meet Kurt
Stage 4 colorectal cancer that spread to his liver. It tried beating Pine-Richland head baseball coach, Kurt, but he and his team went extra innings and refused to lose. Health for Kurt meant aggressive chemo that not only shrunk his tumors, it also killed them. It meant his liver, once full of too many tumors to operate, was made operable. It meant an incredible recovery, and winning a title and a place in the WPIAL Hall of Fame for his courage, too.