When Madison Dischinger learned she could deliver her child at AHN Wexford Hospital, 15 minutes from her home, she was thrilled.
"I had great experiences at West Penn with my first two babies," she said. "But it's 45 minutes away on a good traffic day."
As a planner by nature, Madison opted for a scheduled induction. "I felt it would be easier not to have to call my family to come over at the last minute to stay with the other two," she said. "It was also nice knowing that if they needed anything, my husband would be just 15 minutes away," she said.
Did the fact that she was scheduled to deliver in the new unit on opening day give her any pause? Not at all. Especially knowing AHN Dr. Jessica Hoyson would be the Northern Regional OBGYN doctor at her side.
"She has a very calming presence and instills confidence," Madison said. "I knew it would be a great experience, and it was."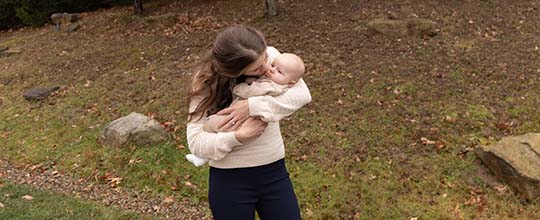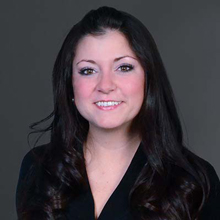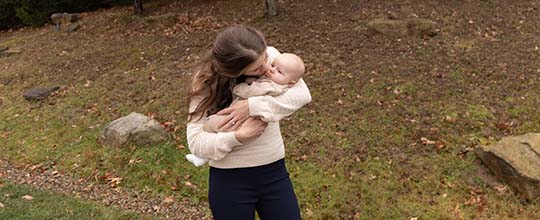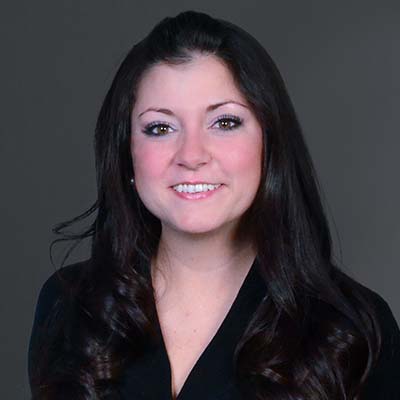 Ensuring best experiences from day one
"I was excited to be the doctor who delivered the first baby in our new unit," Dr. Hoyson said. "And delighted to have the first mom be Madison, someone who has been in my practice since I started my career."
"Everything was so smooth, especially for it being opening day," Madison said.
But the best part was after the delivery. "You could hear the staff and nurses cheering in the hallway," Dr. Hoyson said. "Madison was the perfect first patient — and so excited to not have to travel far from home to have her third child."
Designed for comfort and efficiency
"We wanted the new labor and delivery unit to be as comfortable and efficient as it could be for everyone," Dr. Hoyson said. "Mom, her partner, the nurses, and staff."
That means rooms are private and spacious, with expansive windows that bring the outside in. And nurses are stationed in the middle of everything — the labor, delivery and postpartum rooms, the triage area, the nursery, and the neonatal intensive care unit (NICU).
All 16 rooms all fully equipped for labor, delivery, recovery, and postpartum. Meaning, on any given day, space can be adapted as needed. "This is particularly helpful in the world of COVID," said Dr. Hoyson. "We can keep moms in one place when needed and minimize any unnecessary amount of movement for mom." We also have private neonatal intensive care rooms so that parents can stay with their baby 24/7.
Beyond expert care and comfortable accommodations, the labor and delivery unit features a beautiful outdoor terrace for pre- or post-delivery walks, a playroom for brother or sister to await their new sibling, and Perinatal and postpartum services to help keep new moms feeling their best.
"The whole facility is beautiful," Madison said. "The art, the rooms, the natural light. There was a comfortable chair for my husband to sit in during the day and a pullout couch where he slept overnight."
Helping mom and baby bond
"Madison also appreciated the hospital's focus on keeping babies close to mom as much as possible to jump-start the bonding process.
"They made sure I had uninterrupted skin-to-skin contact immediately with my new baby boy for a full hour," Madison said. "Then they did the APGAR test in the room. Ford, that's his name, was always with me."
"I can't say enough nice things about how inviting and comfortable it was for both me and my husband." Madison said. "We had such attentive care throughout the whole process."
"Having this level of maternal and newborn care this close to home is wonderful," said Madison.
Learn more about labor and delivery at AHN Wexford.
The labor and delivery unit at AHN Wexford is the first in northern Allegheny County with high-risk obstetrical service and Level II neonatal intensive care. While other hospitals are closing their labor and delivery departments, we brought a new one right to your neighborhood. LAST
Online scheduling with MyChart makes it easy to schedule a convenient appointment with your doctor.