Aggressive Care for an Aggressive Cancer
When Gene was diagnosed with a rare and aggressive form of peritoneal cancer, the AHN Cancer Institute surgical oncology team at West Penn Hospital attacked it with a rare and aggressive treatment.
Gene Mazzetti's abdominal pain started in December 2020. By January, it was so severe, it sent him to the emergency room. Over the next few weeks, he underwent blood tests, a sonogram, a CT scan, an EKG, and a colonoscopy. None of which revealed the source of his pain.
Gene had a nagging suspicion it might be peritoneal mesothelioma, a rare form of cancer that both his mother and father had. Upon hearing that, his colonoscopist referred Gene to a surgeon who biopsied eight sections of his abdomen.
Three days later, Gene received the cancer diagnosis that confirmed his suspicions. He immediately made an appointment with the AHN surgical oncology team, led by Patrick Wagner, MD, to discuss his options.
It was determined that the best course of attack was an aggressive one-two punch approach. The team would remove Gene's cancer surgically. Then, while still inside his abdomen, apply heated intraperitoneal chemotherapy (HIPEC), which is chemotherapy circulated in the body cavity at high temperature during surgery to kill any lingering cancer that is visible only at the microscopic level.
Mesothelioma is rare. Peritoneal mesothelioma is even rarer.
Peritoneal mesothelioma is a cancer that develops in the lining of the abdomen, which is known as the peritoneum. It is caused by inhaling or ingesting asbestos fibers.
Over time, irritation from the fibers can cause scarring and inflammation. This leads to mesothelioma tumor growth on the affected site. Prognosis varies, depending on the stage of cancer at diagnosis.
Treatments like surgery can remove the tumors and improve life expectancy. Surgery combined with HIPEC — a specialized treatment available only at select cancer centers – may increase survival rate to 50% or higher.*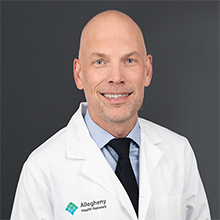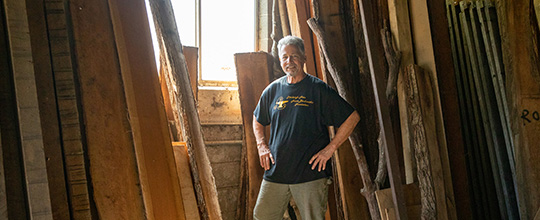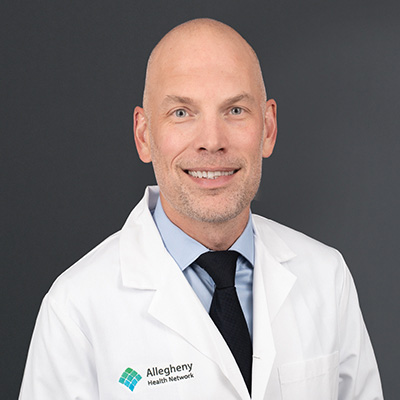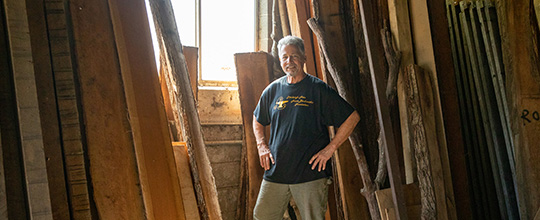 No time to waste

"I was surprised, and grateful, at how quickly they moved," Gene says. "The nurse called days later and said there's an opening, you're set up to come in."
"And even though it happened so fast, I knew exactly what Dr. Wagner was going to do and how he was going to do it. I had the utmost confidence that he was going to get it done."
The combined surgery and chemotherapy treatment took seven hours, and Gene stayed in the hospital for a week after. 
"Dr. Wagner came by every day to see how I was feeling, and to let me know where we were at, what the next move was, and how I was coming along," Gene said. "He reassured me that I was doing great. That was a real boost, because honestly, I didn't feel like I was."
After his release from the hospital, Gene stayed in close contact with his team of caregivers, which, in addition to Dr. Wagner, included his nurse, the physician assistant, and physical therapists.
"They kept track of me every day," Gene said, laughing. "They were pretty adamant when it came to me doing what I was supposed to be doing at home." Which he's extremely grateful for. 
Today he's pain-free and back doing his favorite things, such as blacksmithing and woodworking in his woodshop, crafting dining room tables and cattail and lily pad sculptures out of iron and stone.
As a preventive measure, he's receiving immunotherapy infusions every three weeks for two years. "There's no doubt I'm in the best hands," he said. "Dr. Wagner is great. I trust him in everything that he did with me. I told him that, too. I won't forget."
Providing solutions, comfort, and hope
Surgical oncologists currently have but a handful of tools for treating challenging cancers such as peritoneal cancer.
The Peritoneal Surface Program at AHN, here in Pittsburgh, is changing that. "We're researching smarter, safer, and less invasive options," said David Bartlett, MD, Surgical Oncologist and System Chair of the AHN Cancer Institute. "Including options that harness the patient's own immune system to target the cancer cells."
The goal is to provide patients who are suffering from a cancer that is deemed terminal with treatments that can prolong their lives and even be curative.           
"Several immune therapies are currently in clinical trials," Dr. Wagner said. "Additionally, we have an active collaboration with investigators at Johns Hopkins Kimmel Cancer Center examining the role of the gut microbiome in shaping the immune response to colorectal cancer."
Learn more about cancer treatments at AHN West Penn Hospital
The AHN Cancer Institute at West Penn Hospital provides diagnostic and treatment services in one convenient location, designed with your comfort in mind.
Sources for: Aggressive Care for an Aggressive Cancer
*Annals of Translational Medicine