Back to Life After Severe Trauma
When the car Rachel was a passenger in was totaled, she received fast, effective, and multidisciplinary trauma care when it mattered most.
March 2, 2021, was Rachel Wilson's 17th birthday. As the front-seat passenger in a car that crashed and split in half, it was also the day her life changed forever.
Multiple life-threatening injuries required multiple specialty surgeons: STAT
After being transported by AHN LifeFlight™ to the Forbes Hospital Level 2 Trauma Center, she was met by surgeon, Dr. Richard Nahouraii, who quickly assembled the team of specialty surgeons who would operate on her that night and over the next eight days.
"Trauma care is time-dependent and that first hour is critical. She was unstable. She had extensive injuries, including complex fractures, lacerations, and a collapsed lung. We had to go above and beyond for her and bring everyone in as quickly as possible."
Everyone in this case included AHN specialists from gynecology, urology, colorectal, vascular, orthopedic, and trauma care. "We're very fortunate," said Dr. Nahouraii. "It was through the swift and combined efforts of everyone that we were able to save her."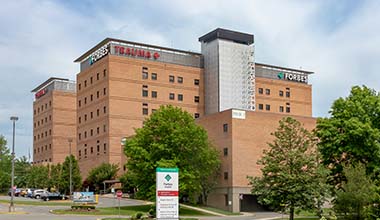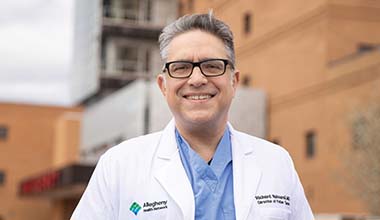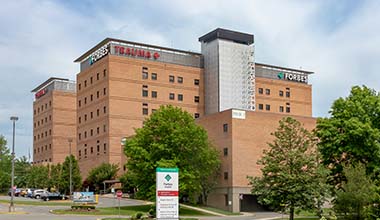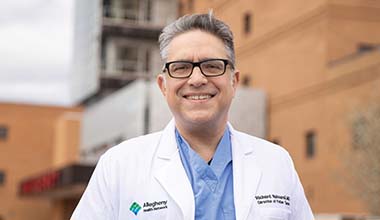 31 procedures in 8 days
Rachel was put on a ventilator and sedated for her first three days at Forbes Hospital and has little memory of the 31 surgical procedures she underwent. "I do remember that when I got to the hospital, I asked Dr. Nahouraii if I was going to die, and he said not if there's anything he can do about it," she said.
"Every single person treated her like she was their own daughter," said Katrina Rodgers, Rachel's mother. "Every nurse, every nurse's aide, every doctor."
After eight days in the ICU, Rachel was moved to a non-critical care floor, but remained under the care of the trauma services team. "The nurses kept me going," Rachel said. "I would be sad, and they would encourage me and reassure me that I could do it."
On her way to recovery
"Everyone was amazing," her mother said. "They were great at explaining everything to us and made sure we had everything we needed."
Rachel was discharged from Forbes Hospital on April 1 and transferred for rehab care. In early May she went home and by June 1, she was walking again.
Today, she's back in school half-days, able to spend time with her boyfriend and friends, and continuing to heal. "Her strength, determination, and sense of humor are helping her get through this," Katrina said. 
"Being in that car accident will impact me for the rest of my life," Rachel said. "But it made me stronger emotionally and brought me closer to my family."
As for the future, Rachel is looking into registered nurse programs. "Because of how much they impacted me and my ability to recover," she said. "It was hard to say goodbye to them."
Her mother agreed, "How do you even begin to say thank you to the people who saved your child's life?"
The only Level 2 Trauma Center in the eastern suburbs
Forbes Hospital is equipped to handle all types of traumatic injuries 24/7 — from car crashes and shootings to falls.
Our multidisciplinary team of trauma experts includes general surgeons and surgical experts in trauma, neurotrauma, orthopaedic, cardiothoracic, and obstetrics. We also partner with experts in dental, plastics, and cosmetic procedures. All these specialists work together to provide complete care for people who have multiple injuries.
We're also the only trauma center in the eastern suburbs with the expertise to provide complete around-the-clock trauma care for critically injured pregnant women. Working with our obstetrical emergency team and Level 2 neonatal intensive care unit (NICU), we protect the health of moms and their unborn babies.
Read more about the multidisciplinary trauma specialties care at Forbes Hospital Level 2 Trauma Center.
Online scheduling with MyChart makes it easy to schedule an appointment that is convenient for you.
LifeFlight is a trademark of Memorial Hermann.