New Emergency Department Brings Erie Man Back To Life
Robert Haupt wasn't the type of guy to let a little pain bother him. But then, ignoring chest pain almost ended his life at just 32.
"I'm forever grateful that Saint Vincent Hospital doctors were able to pull me back from the brink," he said.
An Erie native, Robert was born at Saint Vincent. He always felt like he was pretty healthy. He did hard, physical work all day long, quit smoking two years earlier — except for the occasional cigar —and only ate fried food now and then.
So when his chest starting hurting one Saturday afternoon in the summer of 2019, Robert continued with his day, working on his truck, then taking the dog to the vet.
"But later, I was very uncomfortable," he said. "I couldn't sleep, pacing around, and then my arm went numb."
He knew he needed help and medical attention. Robert called his Mom, and then 911.
Emergency medical care experts spring into action
Adam Christensen, DO, an emergency physician at Saint Vincent, recalls vividly what happened after Robert arrived at the hospital. 
"When they got here, Robert actually got off the stretcher and went into the exam room," Dr. Christensen said. "He was giving me his family history of heart disease. Then he said, 'My grandmother…' and nearly died in front of me."
Robert's heart was in ventricular tachycardia (V-tach), a heart rhythm disorder (arrhythmia) caused by abnormal electrical signals in the lower chambers of the heart. A healthy heart normally beats about 60 to 100 times a minute at rest.
In ventricular tachycardia, the heart beats faster than normal, usually 100 or more beats a minute. The chaotic heartbeats prevent the heart chambers from properly filling with blood. As a result, the heart may not be able to pump enough blood to the body and lungs and cause life-threatening emergencies like cardiac arrest. 
Dr. Christensen immediately started CPR and chest compressions, and called for additional support. Another physician put in a breathing tube and placed a defibrillator on Robert's chest. Robert opened his eyes during CPR, but his heart and brain function would stop whenever the doctors stopped compressions to check his pulse.
"After eight defibrillations, we were able to get an EKG, which showed that he had suffered a massive heart attack," Dr. Christensen said. "We needed a cardiac catheterization to see and remove the blockage."
But Robert was not stable enough for the procedure. So the doctors gave him medications, epinephrine and magnesium, to keep his blood pressure up and his heart beating. 
Para Yoges-Waran, MD, did the cardiac catheterization, which uses contrast dyes and an X-ray to show where Robert's blood was flowing, and where it stopped. Robert's left anterior descending artery (LAD) was 100% blocked. The LAD is a coronary artery that controls the heart's pumping action.
Dr. Yoges-Waran used a catheter to place the artificial stent that would open Robert's LAD artery and restore blood flow.  
A life-changing 24 hours
The intensive care unit (ICU) team was up next. Shauna Mack, nurse practitioner, and Hitesh Gidwani, MD, critical care specialist, fought to keep Robert's blood pressure up.
"Robert was awake 24 hours later when I came to the ICU to see him," said. Dr. Christensen. "His family was there and he thanked me with tears in his eyes." 
Robert doesn't remember that. He doesn't remember anything after losing consciousness in the ER. "I lost Sunday completely and woke up in the ICU on Monday. I spent a week in the hospital," he said.
His recuperation was slow but steady, building up strength and energy, with less pain and pressure each day. He used a treadmill at home, walking slowly three times a day.
"I didn't realize how bad my heart was," said Robert. "But now I have more energy than I used to. I don't get tired as easily." 
He's changed his perspective about his health as well. "I was young and stubborn. I should have seen the signs of heart trouble. I tell everyone, if I'd listened to my body, I could have caught it sooner," he said.
Since Robert's incident, everyone in his family has seen a doctor to check their heart health. Fried food and cigars are out his life entirely. "I don't want anything like this to happen again," he said. 
"I'm very thankful to the doctors and nurses who saved my life," he added. "They did their jobs amazingly and I'm still here." 
Short wait times and 39 private rooms
Most people have experienced an emergency room at some point in their lives. And many have the same complaints — hours of waiting, tight spaces, no privacy, and more hours of waiting. 
Saint Vincent Hospital is changing all of that. Opened just before the pandemic, the hospital's new $50 million Emergency Department is a three-story facility that was built to improve each patient's experience. Contained in a structure on Saint Vincent's campus that extends between the Hardner Building and the main hospital, the 104,000-square-foot, modern Emergency Department greatly expands and improves patient care. 
The new ED features:
39 private exam rooms
Short wait times
Specialized rooms for trauma care
Separate rooms for drawing blood and performing heart tests
An imaging center for X-rays and CT scans
An expansive waiting room for your family
Rooms specifically for bariatric medical conditions and behavioral health assessments
Investing in your care
As part of Saint Vincent's Emergency Medicine expansion, new state-of-the-art operating rooms were designed with the latest technologies. The ORs are designed to accommodate the hospital's robotic surgical systems, including the Mako® robotic-arm assisted technology for knee and hip replacement and the da Vinci® robotic surgery technology.
"The new ER facility is far more than just a beautiful building. It is a tremendous investment that will improve the delivery of patient-centered emergency and surgical care in the Erie region for generations to come," said Christopher Clark, DO, MHA, AHN Saint Vincent president. "No one understands the needs of patients better than patients themselves and their caregivers, and we are extremely proud to have partnered with those stakeholders, as well as our valued EMS colleagues, in developing a facility that ensures the all-around patient experience is second to none."
Saint Vincent's new ED and OR Suite is part of an ongoing $140 million commitment by Highmark Health and AHN to improve access to high-quality health care in the Erie region. The hospital has opened several new care facilities: the AHN Cancer Institute – Saint Vincent, the Erie East Side Health + Wellness Pavilion, a Women and Infant's Center, and a center for men and women's urologic care.  
"We could not be more excited about all of the critical investments that we have made over the past few years in our Erie-based facilities and in the exceptional caregivers at Saint Vincent who work so hard every day to assure that our patients receive the extraordinary care, comfort and compassion they deserve," said Cynthia Hundorfean, AHN president and CEO.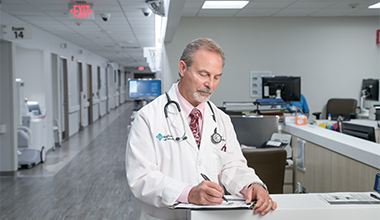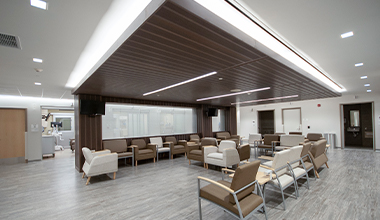 Teaching emergency excellence

Wayne Jones, DO, first realized his passion for emergency medicine when he was a paramedic in Erie. 
He decided to start medical school at the Philadelphia College of Osteopathic Medicine and then completed an emergency medicine residency at Memorial Hospital in York, Pennsylvania. Dr. Jones joined Saint Vincent in 1992 and is now the medical director for Emergency Medicine.
"I originally thought surgery would be a good fit for me, but I found myself much more comfortable caring for the acutely injured patient," Dr. Jones said. "In general, I'm a patient advocate, and I push for changes that will benefit both the care we deliver and the care we display."
"I'm very much a teacher and take pride in educating our residents how to treat patients with exceptional care, compassion, and respect," Dr. Jones said.
Da Vinci is a registered trademark of Intuitive and used with permission.
Mako is a registered trademark of Stryker and used with permission.