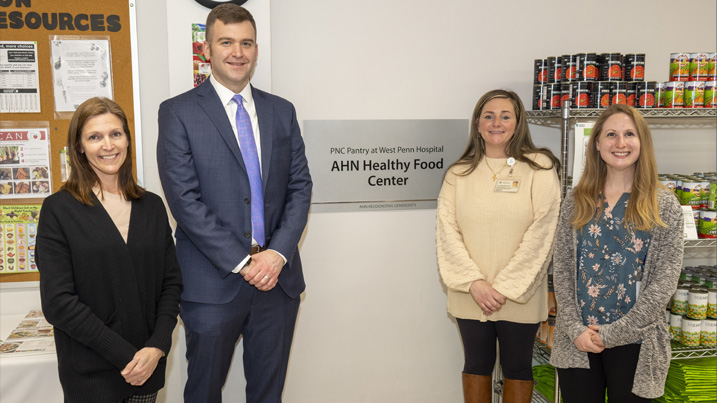 Wednesday, March 02, 2022
PNC Bank, Allegheny Health Network Team Up to Improve Health Equity in Pittsburgh
PITTSBURGH – Allegheny Health Network (AHN) is pleased to announce it has received charitable sponsorships from PNC Bank to improve health equity in the greater Pittsburgh region. The funding will support AHN's Healthy Food Center at West Penn Hospital, as well as the health system's 'First Steps and Beyond' program to improve Black infant health outcomes.
"AHN and Highmark Health have been fortunate to frequently work with PNC Bank over the years to promote health and wellness for all residents in Pittsburgh communities and beyond," said Allie Quick, chief philanthropy officer at AHN. "We are so grateful for their involvement once again to help address the impact of racial disparities on birth outcomes in our region, as well as transform the lives of families with insufficient access to nutritious food choices."
According to the Greater Pittsburgh Food Bank, one in five Pittsburgh residents experience food insecurity – meaning they lack consistent access to nutritious foods, which are critical to an active, healthy lifestyle. Funding from PNC Bank will help to sustain the AHN Healthy Food Center at West Penn Hospital and its efforts to link food and medicine for improved patient health outcomes. In recognition of PNC's generous support, this Healthy Food Center location has been designated the 'PNC Pantry.'
The AHN Healthy Food Center, part of the network's Center for Inclusion Health, serves as a food pharmacy where patients can obtain healthful food items, as well as education on disease-specific diets and resources to address other social challenges. The first center debuted in 2018 at West Penn Hospital, followed by locations at Allegheny General Hospital, Jefferson Hospital, Saint Vincent Hospital and Forbes Hospital. To date, more than 125,000 meals have been provided to patients and their families in the Pittsburgh region through the Healthy Food Centers.

Another sponsorship from PNC will support the 'First Steps and Beyond' program at AHN, which is designed to decrease Black infant mortality rates, reduce preterm birth rates and increase knowledge about safe sleep. Originally announced last December, the program seeks to expand prenatal, perinatal, birth doula and fatherhood services, as well as develop interventions for families experiencing oppression and hardship, especially due to racial inequality.

"PNC is committed to promoting economic empowerment for all across our footprint," said Lou Cestello, PNC regional president for Pittsburgh. "Allegheny Health Network is working to eliminate health disparities that can serve as significant barriers to overall equity, and we are proud to team up with them to improve health outcomes for underserved communities in our region."

###

About PNC Bank

PNC Bank, National Association, is a member of The PNC Financial Services Group, Inc. (NYSE: PNC). PNC is one of the largest diversified financial services institutions in the United States, organized around its customers and communities for strong relationships and local delivery of retail and business banking including a full range of lending products; specialized services for corporations and government entities, including corporate banking, real estate finance and asset-based lending; wealth management and asset management. For information about PNC, visit www.pnc.com.