Wexford Hospital Therapist Forms Personal Connections
It's rare that hospital clinicians get to build a hospital's physical therapy department from the ground up. Which is why Ashley Watson, AHN board-certified neurologic clinical specialist, was so excited about the opportunity.
At AHN Wexford Hospital, she was one of the physicians, therapists, and nurses who combined their knowledge and experience to develop brand-new programs. This collaboration of expertise gives patients a higher level of care using new technology and best practices.
"This position was really cool because we were able to start the whole therapy program for the hospital," she said. "Usually, everything is already figured out for you and you just have to blend to match the program. Here, we can actually change the program to match what we need and what the patient needs."
Finding a way back to life
Physical therapy at AHN Wexford helps patients who have neurological conditions, orthopaedic issues, or who are recovering from surgery. They may relearn how to walk or strengthen their arms and back through exercises to relieve pain and improve range and function. Heart patients may get cardiac rehabilitation to increase their endurance.
But much of the therapy is to enable people to return to the tasks they need to do, or enjoy, in daily life.
This is one reason why Ashley's team included a car simulator in the new unit. It allows patients to try out the actual movements they'll need to do to drive, like lowering themselves into the seat, turning a steering wheel, or stepping on the brake. It helps them gain confidence as they practice and regain physical skills for driving. 
Building close relationships
One of the best parts about working in physical therapy, she said, is getting to spend so much time with patients — enough time to get to know their goals, their needs, and their personalities. 
For these patients, therapists can be a welcome resource for information, in an environment where it's easy to ask questions. Therapists often pick up on things the patient forgot to tell the doctor or didn't think was important.
Working close to home
Clearly, time is valuable to Ashley. Not just in her role on the physical therapy team, but also as she navigates her personal life. Like her patients, she appreciates that Wexford Hospital is only a short drive from her home.
Because she's expecting her first child, she spends a lot of time at her OB-GYN's office in the Wexford Health + Wellness Pavilion. "I can see my doctor, pick up my prescriptions, and go to work all in the same day without the inconvenience of driving to multiple places," she said. "It's a one-stop shop."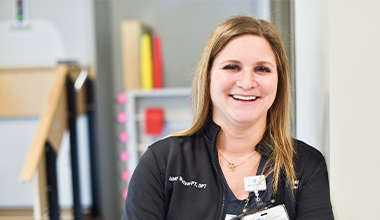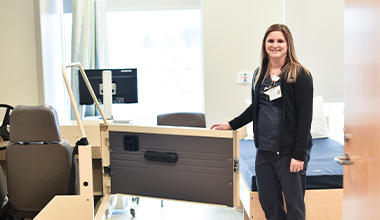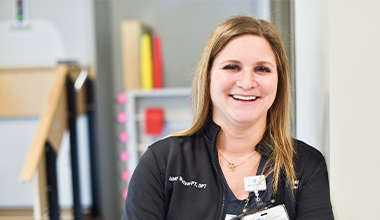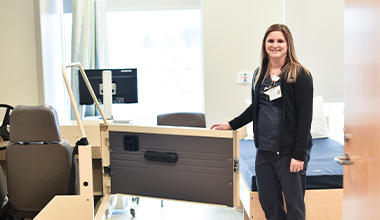 Memorable patient care
While Ashley is grateful for the chance to advance her career at Wexford Hospital, for her, it always comes back to the patients she serves.
She recalled a patient who was recovering from COVID-19 and coming off a ventilator. Supported by her team, the patient progressed from being able to sit up, get out of bed, take a few steps to the end of the bed, and eventually walk the halls.
"This is the impact that we can have on people who are having the worst time of their life," she said. "It's very rewarding."
Do you need physical therapy?
If your ability to get around easily is limited by illness or injury, ask your doctor about a comprehensive rehabilitation program that can help you return to the life you love.
Learn more about working at Wexford Hospital.
AHN Wexford Hospital brought new jobs that span a range of vocations to the North Hills. Join a team that is revolutionizing the patient experience by reviewing current AHN job opportunities and career opportunities for nurses.
AHN Employees Make a Difference