Internal Medicine Residency Program
Internal Medicine Residency Program
About the Program
Program director: Anastasios Kapetanos, MD, FACP
Accreditation: ACGME
Program length:
Categorical: 3 years (PGY-1-PGY-3)
Preliminary: 1 year (PGY-1)
Residents per year:
Categorical: 30
Preliminary: 10
---
A Message from the Program Director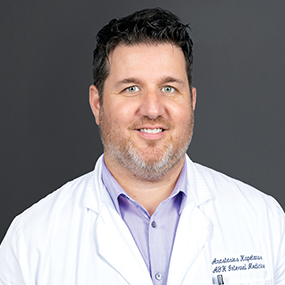 We are excited to introduce you to our Internal Medicine Residency Program!
We represent the proud traditions of Allegheny General Hospital (est.1882) and The Western Pennsylvania Hospital (est.1848), part of the dynamic Allegheny Health Network (AHN). We thrive in the nation's second largest integrated health delivery system, which includes the Allegheny Research Institute and the STAR Center (Simulation Training and Academic Research Center). We are also proud to serve as a clinical campus for medical students from Drexel, LECOM, and Temple University.
Tradition and innovation co-exist in a program that invites diversity, fosters personal relationships, and is focused on the professional growth and achievement of our residents.
Our dedicated faculty and chief residents ensure that you will receive state of the art, evidenced-based training, using novel teaching methods and rounding models adapted to meet the needs of today's resident.
The 4+1 schedule is the cornerstone of our program, offering the best opportunities to develop your skills in both inpatient and ambulatory medicine. It also allows you opportunities to participate in clinical research and enjoyable didactics, while giving you protected time for renewal.
The electronic health record (EHR) has become integral to the practice of modern medicine. We understand that fragmented systems impact patient care and physician satisfaction. We are proud to offer integrated Epic EHR across all of our inpatient and outpatient sites.
With a schedule designed with the training experience in mind and the right EHR to do the work, we have been able to innovate across all facets of our residency program. We encourage you to explore our website and Facebook page to learn more about our thriving residents, our strong research platform, unique track in Inclusion Health, robust QI and physical diagnoses curricula, and the many other facets that make our program a top choice for internal medicine residency training. Above all, we encourage you to come for an interview, and see that we are program that accomplishes this all in a fun and supportive environment that feels like a family.
Warmest Regards,
Anastasios Kapetanos, MD, FACP
Internal Medicine Residency Program Director
---
Mission Statement
Our mission is to cultivate residents who will become exemplary physicians as measured by their passion, social responsibility, ethical behavior, humanism and tolerance. Such qualities will enable them to reach their full potential as professionals and individuals committed to better serve their patients and communities.
To achieve our mission, we will develop our residents by inspiring leadership, fostering intellectual curiosity, providing professional role models and educating across the spectrum of patient care.
We will accomplish this mission through the following guiding principles:
Diversity- learning from one another
Balance - patient-centered and education-focused
Adaptability - being ready for anything
Collegiality - mutual respect and support
Scholarship - pursuit of life-long learning
Professionalism - undeviating courtesy and honesty
Clinical Excellence - accepting nothing less
---
Contact Us
Internal Medicine Residency Program
Patricia Barr, Program Coordinator
Mailing address:
   Allegheny General Hospital
   Internal Medicine Residencies
   320 East North Avenue
   Pittsburgh, PA 15212
Phone: 412.359.4971
Fax: 412.359.4983
---